Mainstreaming and youth specific efforts to enforce the role of young people in African agricultural transformation
foodFIRST workshop "Youth agripreneurship in agricultural transformation" June 1, 2018

Africa is facing high levels of unemployment among the youth, a growing youth bulge, rapid trends of urbanization, and unsustainable agricultural food systems. Young people in Africa are a world of challenges and opportunities and should be seen as key actors. But how can we enforce their role in the needed agricultural transformation?
On June 1, 2018, a large international foodFIRST conference was held in Utrecht, the Netherlands with some 400 attendees ranging from agripreneurs and farmers' organizations, to policymakers, businesses, academy and civil societies, and students from Africa, the Netherlands and Europe. The conference focused on the challenges and opportunities for African farmers and agripreneurs, with larger themes on providing the urban population fresh and healthy food, and a special focus on the farm-to-market trajectory. During the conference, the question was: How should the Dutch Diamond actors (government, research institutions, business and civil society organizations) connect to these challenges and opportunities, establish partnerships for reinforcing rural-urban linkages, and develop the food chain?
Workshop Youth & Agripreneurship
The Food & Business Knowledge Platform (F&BKP), AgriProFocus and the Young Expert Programmes (YEP Agrofood and YEP Water) together organized a workshop during the conference with a focus on youth entrepreneurship in agricultural transformation. The aim of the workshop was to give young African and Dutch agripreneurs and (young) professionals in this field a clear yet diverse voice. Their experiences, views and expertise can provide more insight into the needs of young agripreneurs and the opportunities for others to work with them.
The IITA Agripreneur Approach
The Keynote Address "African Agricultural Transformation: The IITA Agripreneur Approach to job creation", was provided by Dr Kwesi Atta-Krah, Director of Country Alignment and Systems Integration at the International Institute of Tropical Agriculture (IITA). According to Dr Atta-Krah, we should move away from seeing agriculture as a development and social sector and towards agriculture as investment. He emphasized the urgency of creating jobs for youth from the Nigerian context as the opportunities already exist: the agricultural sector has huge potential, and the market chances are there. Currently, there are too many food imports so the opportunities are ripe for the picking to employ people and progress into food production locally. "Africa does not need aid but better investment, trade, partnerships", as Dr Atta-Krah mentioned. He went on to state that the importance for programs for youth must be clear in their exact target group: will it be urban or rural youth, out of school or graduated youth? These target groups need different strategies.
The IITA Youth Agripreneurs initiative (IYA) is a youth-in-agribusiness model established to address the issue of unemployment and provide a platform along the agricultural value chain for unemployed youth to generate wealth and create jobs. It was started as an experiment and has now grown to be a successful model, and has even scaled into several countries in Africa. Please find more on the IYA initiative here.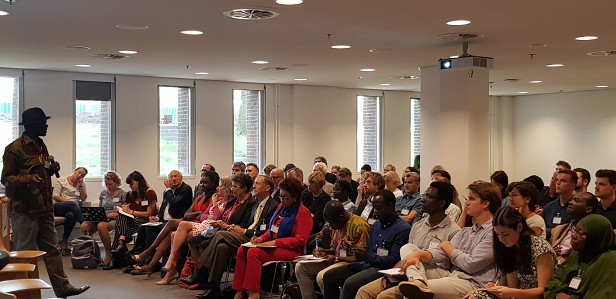 Youth Caravan
During the Youth Caravan at the workshop, five young professionals from diverse backgrounds introduced themselves and their connection to agrofood. A Q&A followed and was moderated by Ama van Dantzig from Dr. Monk, a social enterprise. The goal of the Youth Caravan was to inspire and engage the audience, and gain opinions and experiences into different approaches, namely what works best when connecting with young entrepreneurs. The Q&A was also used to identify opportunities for different types of stakeholders.
The participants of the Youth Caravan were Lisanne de Bakker from Proportion Enterprise. She explained about the program Vijana Reloaded, a social enterprise with the purpose to empower youth in rural Kenya. Maya Turolla is a social scientist and development studies specialist who is finishing her PhD in youth in agribusiness in Uganda. Bertrand Foffe shared the story of his social enterprise Jangolo, an AgTech start-up using technology to empower the agricultural value chain in Cameroon. From the Young Expert Programmes (YEP), two YEPers shared their experiences: Frederieke Muijs, who is a Young Expert at TU Delft Valorisation Centre in Uganda; and Maarten Hermus, Young Expert at VDS A'campo Holland GreenTech in Uganda. More on their background and the Q&A can be found here.
The first part of the Youth Caravan centered on youth programs mainstreaming versus youth specific programs. Maya noted that when speaking about youth, one has to keep in mind diversity. Variation between youth should be targeted differently. For example, the youngest are easier to engage and involve in schemes to make them employable, while "older youth" have already received training and are more skilled for entrepreneurship. It was also noted that already a lot of expertise exists in various organizations as well as from research. Yet stakeholders often don't work together. According to Maya, "public sector invests in capital, and the private sector works with market linkages. They are not joined and should be joined." Collaboration and coherence is needed between the different stakeholders working with and for youth in agrofood systems for strengthening impact.
Lisanne and Bertrand stressed that it is also important to have a clear focus otherwise ambitions could get in the way of effectiveness. For example, Proportion Foundation in their new project now focuses on the potato seed sector, which has a lot of potential for youth. Maarten and Frederieke are both YEPers, which in itself is also a very successful form of a youth specific project that stimulate young people to enter this sector. From their work, Frederieke highlighted the success of incubator centers that work with knowledge institutes to stimulate agripreneurship. Maarten also stressed the need to find knowledgeable partners in order to develop a market for high quality inputs, which holds potential for upcoming young farmers.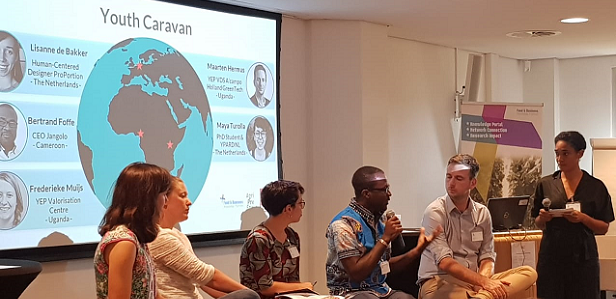 Concluding Remarks
In conclusion, it is important to look for opportunities to support youth to take an active role in the needed agricultural transformation. Youth agripreneurship could have the potential to improve economic chances for young people in Africa. Even though young agripreneurs are a diverse group of individuals, taking this diversity and context-specific characteristics into account is crucial to work with and for these entrepreneurs. The need for smart comprehensiveness becomes obvious in designing youth-agricultural interventions. This can be done by taking the voices of entrepreneurial youth seriously and by using a range of approaches to make sure their needs are being met. Combining youth specific programs with youth mainstreaming efforts through multi-stakeholder collaborations could increase the successes of these efforts. The youth workshop revealed several examples of supporting youth through both mainstreaming efforts (such as being aware of youth as part of your target group in agricultural cooperatives) as well as youth-specific efforts (such as the CTA Pitch AgriHack and the IITA Youth Agripreneurs program).
In some closing remarks, Ton Dietz argued that it is important to be aware of when programs should focus on mainstreaming and when they should be specific projects. Both are needed, but success is also dependent on the context. Currently, many rural youths have minimal chances in becoming successful in mainstream agricultural projects, which is often due to the elderly not giving them space. This trend can also be seen in the recent youth in agricultural cooperatives study, of which you can find an executive summary here. While youth agripreneurship should be stimulated, one should be aware of the relationship between workers and decent labor conditions that needs attention at the same time.
Call for Action
Ama van Dantzig concluded that there are still many opportunities and challenges to which the Dutch Diamond actors could respond. Dr Atta-Krah summarized that government should focus on setting the right policies as well as an enabling environment. Research institutes should engage and involve youth in research. Business, civil society actors and cooperatives should offer internship opportunities as well as support capacity development. Lastly, banks and financial institutions should create special financing mechanisms to stimulate youth entrepreneurships (in partnership with governments). Essentially action is needed from all sources. As some of Dr. Atta-Krah final words: "Considering youth only as 'Leaders of Tomorrow' no longer holds. They can be 'Leaders of Today' if they are given space and support. Key areas in this connection are training, incubation and financing mechanisms such as grants and loans."
During the lunch break after the workshop, participants of the conference could already get familiar with several successful initiatives of Dutch Diamond actors in the "Youth Market Place".
More on background information on this topic can be found in this current state-of-the-art two-pager.