Vote for the Agrofood Broker of the Year 2017!
This poll has been closed on Thursday November 23, 2017, 12:00.
This year the Food & Business Knowledge Platform (F&BKP) will for the first time award the Agrofood Broker of the Year Award. The prize will be awarded to a professional in the field of Food and Nutrition Security (FNS), who has undertaken significant brokering activities in 2016/2017. The jury, consisting of members of the F&BKP network, has selected three final candidates from the 17 nominees.1 Starting today, you can vote for your favourite knowledge broker through an online poll.
The poll has been closed on Thursday 23 November at 12:00. Thank you all for voting for the #Agrofoodbroker of the Year 2017! We received over 2000 votes and will announce the winner of this award during the Research & Policy Conference on December 1, 2017 in The Hague.
The winner will be announced during the conference Research & Policy: two peas in a pod? A dialogue for food security impact on December 1, 2017 in The Hague. Apart from winning the award and being honored for his/her work, the winner will receive a small financial contribution to conduct a knowledge activity with the F&BKP. The following three candidates were selected for their significant knowledge brokering skills in often challenging circumstances:
Addis Teshome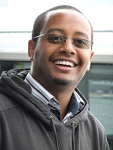 "Addis has been extremely instrumental in building the 2SCALE portfolio of agribusiness PPPs in Ethiopia, by bringing key actors together to discuss how to move the development of critical value chains forward. Under difficult circumstances, Addis has forged partnerships through inventive collaborative agreements."
Addis Teshome joined IFDC in 2013 as the National Cluster Advisor for the 2SCALE project in Ethiopia. The portfolio of public-private partnerships in Ethiopia was developed under his leadership. He employed innovative ways to encourage the participation of women in farmer groups, clusters, and SMEs.
He feels that knowledge brokering "helps in securing continuity of development progress by reducing the occurrences for reinvention the wheel and duplicated efforts". He believes in empowering people and helping them make positive and recognizable contributions in their work. According to him, the starting point to ensure more people attain knowledge brokering skills, is to ensure "people understand and believe in the importance of knowledge sharing not merely as an end by itself, but as a catalyst for change and development. It is important to help people see the effect of knowledge brokering in developing new programs, projects and advancing towards desired results."

Momo Kochen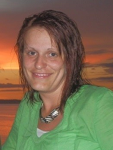 "Momo developed a Tuna Think Tank, which brought together private, government and NGOs sectors to co-create and pitch innovative ideas for fisheries sustainability. This was ground breaking in terms of brokering linkages and creativity between groups of people that are not always willing or able to collaborate."
Momo Kochen set up the NGO MDPI and is the Director of Programs and Science. She has been central to the development of private sector engagement in tuna sustainability, both related to on the ground implementation of these initiatives as well as to shaping national and provincial policy on tuna sustainability.
According to her, knowledge brokering is the approach which allows the story of the small scale fisher to reach the international market while also allowing them to understand how the market works and how to use it for their advantage. "The ability to connect these two worlds allows us to incentivize change in sustainable fisheries. Knowledge brokering makes my job possible!". She feels that connecting personally with people is really important. She believes knowledge brokering comes with experience and with a network. "People need to be confident in their knowledge and in what they are brokering; creating links and possibilities for this to happen can support knowledge brokering."
Norbert van der Straaten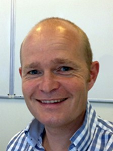 "Norbert contributes to linking Dutch horticultural input suppliers to East-African farmers through Holland Greentech,. By being an extremely enthusiastic and optimistic personality he convinces both suppliers and farmers to work on the next step of Horticulture in East-Africa."
In 2012 Norbert van der Straaten founded VDS ACAMPO with a local office in Rwanda called Holland Greentech. He increased knowledge at distributor level and farmers level through development of local personnel and farmers via training in a commercial, sustainable, business model as an input and service distributor.
For him "creating jobs in East Africa is so motivating and of course challenging. By developing a diverse team and sharing knowledge we are managing our risks." He takes time to meet and listen to other actors, understand how others want to contribute to development of horticulture in East Africa. "We stimulate our team members to go out, to meet farmers, policy makers, universities, NGOs, competitors, etc. Having one good meeting a day with related follow-up, is often more effective and motivating than sending more than 100 emails." To ensure that more people attain knowledge brokering skills, he feels young experts have to experience that they can realize more by working together in diverse team.
Please vote for your favorite candidate here (1 vote per person):