Join the FNS Excellence Programme!

The Food & Nutrition Security Excellence Programme challenges teams of Bachelor students to contribute to Food & Nutrition Security (FNS) by working on real-life cases of Dutch embassies in Africa. Selected teams will work for a period of three months on consultancy assignments and pitch their final ideas for the embassies and Dutch FNS experts. The Excellence Programme is carried out jointly by the Ministry of Foreign Affairs, Ministry of Agriculture, Nature and Food Quality, and the Food & Business Knowledge Platform
Background
There are a number of global challenges the world faces. The Sustainable Development Goals (SDGs) have been designed to address these challenges and to achieve a better and more sustainable future for all. The second SDG aims to end hunger, achieve food security and improved nutrition and promote sustainable agriculture. The Ministry of Foreign Affairs and the Ministry of Agriculture, Nature and Food Quality of the Netherlands contributes to reaching SDG2 by mobilizing knowledge and expertise from the Dutch Diamond: government, private sector, civil society and knowledge institutes.
Embassies of the Kingdom of the Netherlands (EKNs) represent the Dutch government in other (host) countries. Through the EKNs, the Ministry of Foreign Affairs works on the relations between the Netherlands and the host countries, on politics, economics but also development cooperation. One of the main areas of the Netherlands development cooperation is closely linked to SDG2: food security and sustainable agriculture.
The EKNs coordinate many projects on food security that are running in low- and middle- income countries, with the goal to eradicate hunger and malnutrition. However, coordinating these programmes comes with a lot of challenges. That is why they need your help!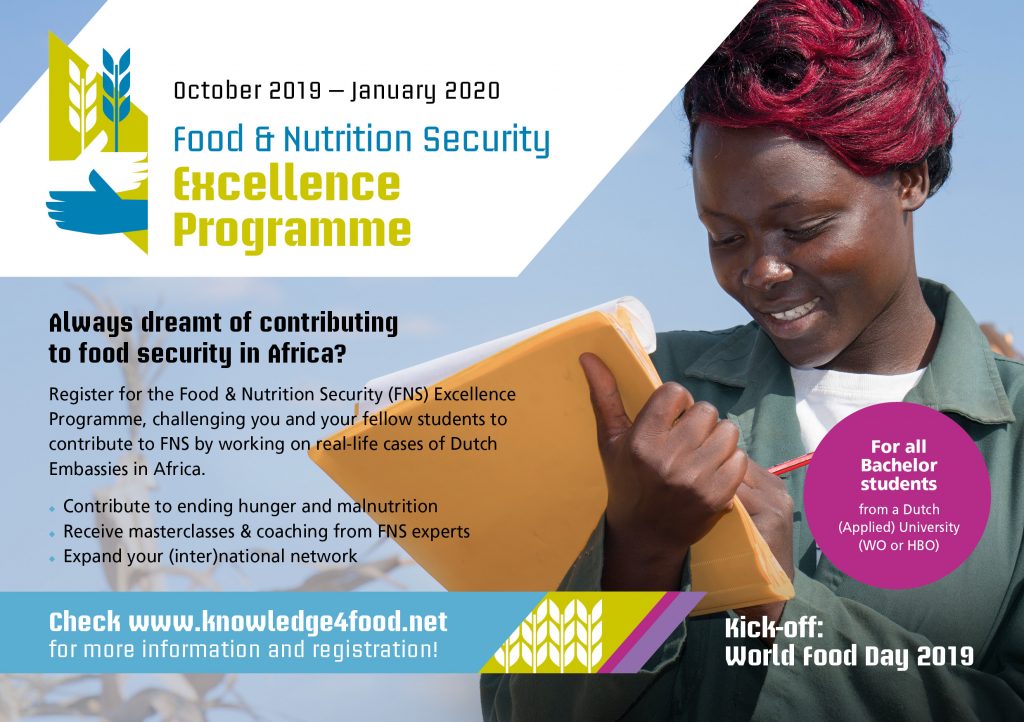 What to expect?
During this FNS Excellence Programme you and your fellow students will work on challenges that the EKNs in Burundi and Kenya face in their programmes.
The programme's kick-off will be during World Food Day 2019 (October 16, 2019). A great day to start the FNS Excellence Programme and enhance your (international) network!
During the kick-off event, teams will be able to get some first insight in the Netherlands' work on Food & Nutrition Security in Africa. Teams will get the chance to get to know each other, receive more information about the consultancy assignments and meet the policy officers of the Embassies.
During the three months period the FNS Excellence Programme is running, there will be a number of activities planned to support you and your team in your efforts to come up with a sustainable solution to the cases of the Embassies. Masterclasses will be organized to gain knowledge and experience on FNS. Furthermore, there will be coaching sessions in which coaches and the Embassy will assist you and your team in the process of developing ideas into feasible solutions. Thereby, a day will be organised to get to know the Ministry of Foreign Affairs and Ministry of Agriculture, Nature and Food Quality.
During a final event, all teams will pitch their solutions to the cases for the Embassies and Dutch FNS experts. The time investment during the three months programme will be on average four hours per week.
What is in it for you?
Contribute to ending hunger and malnutrition
Learn in a practical way on the major international issue of Food & Nutrition Security in low- and middle-income countries, and how the Netherlands contributes to solving the issue
Receive masterclasses and coaching from FNS experts
Meet students from all over the country and expand your international network in FNS
Learn to pitch your solution
Cases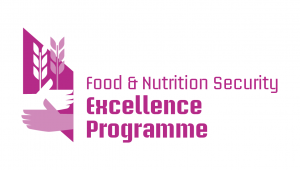 Burundi – Burundi one of the least developed countries in the world and its population suffers from very high levels of malnutrition. The Food & Nutrition Security programme of the EKN in Burundi is centered around the so-called PIP approach (Plan Intégré Paysan or Integrated Farm Plan). This approach focuses on helping farmer households and communities move towards resilience-based management. By creating a farm development plan for the next five years, farmers become intrinsically motivated to invest in their own future, and thereby to invest in their resources, in their economic pursuits and in themselves (education, health). Empowerment, integration and collaboration are key to this approach. However, these improved practices do not automatically lead to a better nutritional status of households and communities. Therefore, you and your teammates are very much needed to develop a nutrition module complementary to the PIP module, to contribute to a better nutritional status of the farmers and their families involved in the project.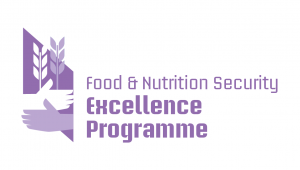 Kenya – In its development and trade programmes, the Netherlands has been active in food security in Kenya for over 30 years. The Netherlands has brought substantial improvements in the value chains of horticulture, aquaculture and dairy in Kenya. However, a cross-cutting bottleneck for the actual implementation of some of the new innovative (Dutch) technologies and approaches that the Netherlands has supported, is the lack of financing for small and medium scale commercial farmers; especially women and youth. The high risks for financing institutes, such as the risk of crop failure and the specific financing cycle needed for farming, are all obstacles for farmers to get access to finance. At the same time several initiatives have been developed, tested and implemented to address these issues, but the need for finance remains a large obstacle for the further development and transformation of the agricultural sector in Kenya. Therefore you and your teammates are challenged to compare successful and sustainable financing models/projects/businesses for small and medium scale commercial farmers around the world and propose an intervention that can be used in Kenya.
Interested?
Duration: October 2019 – January 2020.
Kick-off: World Food Day – October 16, 2019
Costs: None
Language: English
For whom: A team of four to five Bachelor students from one Dutch (Applied) University (WO or HBO). You can choose your own team, but make sure that you all:
Feel creative to think of sustainable solutions in teams
Are interested in/ have affinity with Food and Nutrition Security
Are motivated and available to work on the challenge between October 2019 – January 2020.
Did not succeed to form a (full) team? You can also apply individually/with 2/3 persons. However, since then you need to be matched to compose a complete team, you will have a smaller chance to be selected to participate.
Register!
Please complete the form below with your (team's) details before September 22, 2019. You will be informed on you and your team's selection for the FNS Excellence Programme within two weeks after the deadline for registration.
Registration has been closed