Successful workshop in Uganda on knowledge co-creation and research uptake for food security

Co-creation, stakeholder engagement and commercialization of knowledge were the central themes at the three-day-workshop on Food and Business Research in Uganda. About 40 project representatives and 25 external stakeholders actively engaged to enhance the uptake of research with a strong focus on SMEs. NWO-WOTRO and the F&BKP Office, together with PAEPARD, RUFORUM and AgriProFocus Uganda, organized this workshop.
From October 1 to 3, the research groups of the first Call of the Food & Business Applied Research Fund (ARF) of NWO-WOTRO and the four projects of the PAEPARD Competitive Research Fund (CRF) exchanged ideas and lessons learned. The 40 participants were active in pitch presentations, speed dating, working groups and full discussions. Issues of interest included working together with different stakeholders from research, private sector, policy and civil society and integrating the various ambitions in the research from the start.
To ensure that research leads to usable innovations, knowledge sharing and research uptake were addressed in interactive sessions at the headquarters of the Coffee Value Chain Incubation Facility (CURAD). An interactive session on stakeholder engagement mapping led to insights on appropriate strategies for targeting important parties.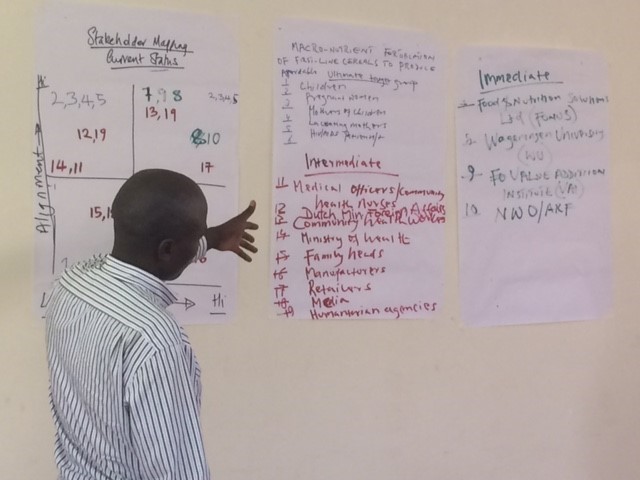 Back to back to the ARF/CRF workshop, a public seminar was organized about the contribution of SMEs in economic development and food and nutrition security. An extra 25 external participants were invited to discuss the commercialization of knowledge, innovation through incubators and challenges faced by SMEs. Examples included the production and commercialization of juices and dried fruit (Jakana Foods) and chili peppers (North East Chilli Producers Association). A video was presented about good practices of farming as a business, supported by the Dutch Embassy. Special attention was given to the increase of the organization and institutionalization of SMEs in the food sector by initiatives like the Africa Agribusiness Academy. One of the main research issues identified in support of SMEs' was the desired impact of policy implementations on the food businesses, a topic also shown in the Dutch Embassy video.
During the field visits on the last afternoon, students from CURAD shared their interesting experiences of how they are supported in setting up a business and starting careers as entrepreneurs. The examples especially included the development of new value adding products, such as folders, badges, bags and clocks from the banana plant, and juices and liquor from coffee. This will contribute to economic development as a prerequisite for increasing food security.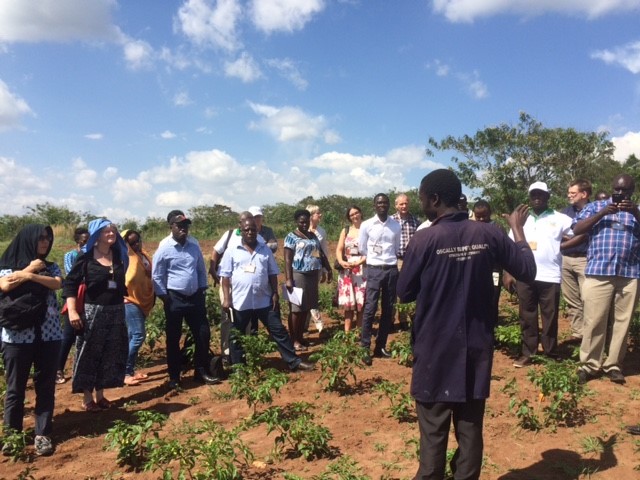 At the conference venue on Lake Victoria and at an Agriculture Research Institute outside Kampala, the workshop further stimulated the process of learning and knowledge sharing within and between the ARF and CRF projects, and with their various partners and networks around the globe.

twitter.com/wotro
twitter.com/foodplatform
www.facebook.com/foodplatform