Report on fifth ProFishBenin project workshop

"Developing and promoting efficient fish feeds to enable emergence of catfish breeding in Benin" (ProfishBenin) is an Applied Research Fund project in the third Call. On September 26, 2019, the fifth progress workshop of the ProfishBenin project was held at the "Food Africa" farm at Zinvié, Benin. The main objective of the project is to develop and promote affordable, nutritive, floating, and easy to use fish feeds based on locally available feed ingredients in Benin.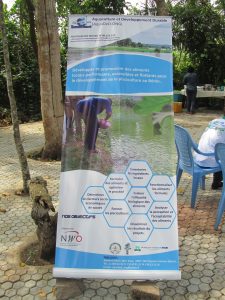 Twenty-six participants, including project consortium members, fish farmers, MSc and PhD students, attended this one-day workshop. Partners from the Netherlands, namely Dr Anita Linnemann (Wageningen University) and Dr Rob Nout (Ronfostec company), participated in this meeting as well.
In total six presentations were given on various project activities, aiming to disseminate significant outputs amongst stakeholders and exchange experience and knowledge. Participants were excited by the project findings, particularly the developed Profish 2 formula that induced similar growth of fish in comparison to the imported feed. The presentation on the economic profitability of formulated feeds demonstrated that, based on criteria including quality and cost-effectiveness, locally developed fish feed displayed the best results when compared with imported feed.
The participants recognized the importance of multidisciplinary approaches as an effective pathway to successfully address complex research questions.
Images of the workshop (By Anita Linnemann – Wageningen University & Research, Food Quality and Design group)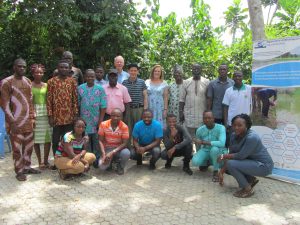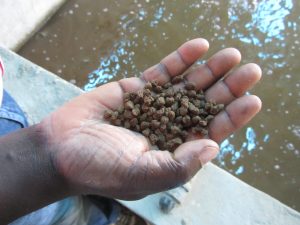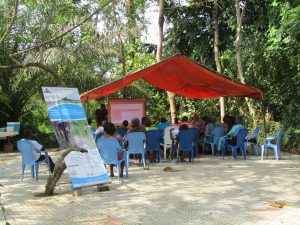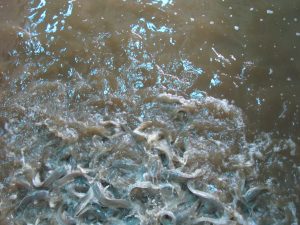 Images of the sale of fresh and smoked catfish by women in Porto-Novo, the capital town of Benin (By Anita Linnemann – Wageningen University & Research, Food Quality and Design group)