Aquaponics: combining profitable business models with increasing food security

The Fast Track Global Challenges Programme (GCP) Research Project "Sustainable integrated fish-vegetable production in Ethiopia" finalized in 2018. The project aimed to improve nutrition security of rural households in Ethiopia by providing households with an affordable and profitable aquaponics system to generate nutrient-rich food and by developing sustainable business models to generate income. It was the first GCP project to finish and has booked remarkable Food and Nutrition Security outcomes. Bouke Kappers of TGS Business & Development Initiatives, the private partner in the research consortium, gives insights in what made the project a success.
Aquaponics
Aquaponics in an innovative food production method in which fish and vegetable farming are integrated. The nutrient rich water from the fish tanks is utilized by the vegetables that grow directly with their roots in the water, thereby cleaning it. The circularity of the system saves water compared to rainfed and irrigated agriculture and can be implemented on non-fertile lands as it is a soil-less growing technique. Bouke Kappers explains: "Aquaponics is not (yet) a mainstream farming method due to its high complexity and higher operating costs, most farms therefore serve a niche market."
However, aquaponics is a highly suitable method for Ethiopia, where land and water resources are scarce. "During the dry season, vegetables are not available or come from far away. However, with aquaponics you can produce vegetables year-round." Moreover, introducing fish at a place where it was not available before, is a great addition to diets: "In Shewa Robit, one of the project locations, the nearest lake was a one-day drive. So fish was not fresh or available at all." The produced nutritious vegetables and fish are not only a welcome additive to diets, they have a good market value as well. "People can start small businesses with aquaponic systems. The system has to be profitable while supplementing the diet at the same time. That was the combination we were looking for."
Lessons learned from the project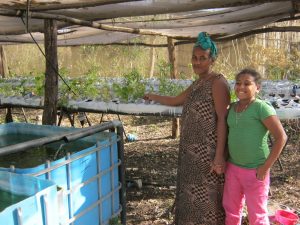 The research project was located at two different sites with different target groups: 1) In Shewa Robit with female entrepreneurs; 2) In Hawassa with poor family entrepreneurs. The project with the female entrepreneurs in Shewa Robit has proven to be the most successful: "In Shewa Robit there were a few female entrepreneurs who really picked it up and organized it well. They were really motivated to make it a success."
One point that probably made the programme in Shewa Robit the most successful is how the entrepreneurs were selected. The women entrepreneurs in Shewa Robit were selected by the local university and local government, who knew that because of the communal culture, you should not work solely with individuals, but involve the community in the process. "The community could decide together who they were going to help. That also made a difference; the community supported the women."
The selection in Hawassa might not have been optimal, but another factor missing in that programme was an agronomist that could give advice when things were going wrong. "When things went wrong, I would find out when I came over for a visit, however then things were already delayed by two months."
Another significant difference between Hawassa and Shewa Robit was the location. Hawassa was located close to a lake, so fish was abundantly available and rather cheap. In Shewa Robit, both fish and vegetables were very expensive. "In Shewa Robit the women entrepreneurs immediately experienced that with what they produced they could actually earn money. In Hawassa that was a lot more complicated. This means that it is of importance to look at the economic situation, and the availability of land and water. The best fitting method should be selected according to that. In this project, we immediately started with aquaponics, while in hindsight it would have been much wiser to go for a simpler option. The fish was not producing any profit and caused a lot of hassle. That is also why some farmers in Hawassa switched to hydroponics."
What also helped flourish the project in Shewa Robit was the local knowledge of vegetable producing farmers. "You should really make use of that. That [the local knowledge] is the most important. If the knowledge is not there, you have to start from the beginning. But often there is already a lot of knowledge. Aquaponics is new, but vegetable farming is not."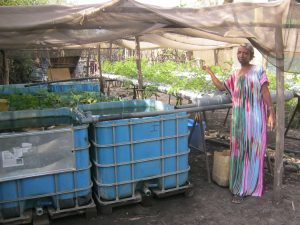 The biggest challenge, something that was underestimated, was the fact that there was no developed value chain present at the start of the research project. There was no fish feed available at the market, nor fingerlings, and nutrients were hard to find as well. So a whole value chain needed to be set up. A press to make fish feed was bought and leased to another women in the community. "She started making fish feed for the project that we bought from her. So she had her own business, and that is still running nowadays." The university ended up facilitating the fingerlings.
Apart from that, Bouke assumed that the aquaponics system would be easier to manage. "We have noticed that for local entrepreneurs it seems sometimes one step too far to start producing fish and vegetables at once. […] It takes a lot of coaching. That is why I would not recommend so quickly anymore to start with aquaponics at once, especially at this small scale."
Multi-stakeholder co-creation
The research project was a co-creation between the Addis Ababa University, Wageningen University, the civil society organization Great Commission Ministry and TGS Business & Development Initiatives as private partner. According to Bouke, it was both interesting as well as a challenge to work together on the research project. In the beginning, there was a discrepancy between the focus point of the stakeholders. The universities and civil society organization considered ensuring food security by the system as most important. TGS was mostly focussing on the business development of aquaponics systems. "The system has to be affordable, to make sure that the local people are able expand the system when the project is finished. That was a new way of looking at it for the local partners." So when starting a multi-actor research approach, Bouke recommends that the expectations of all the partners are clarified to make sure that you know where everyone stands and what everyone's roles are, but also to make sure that you keep thinking along with each other.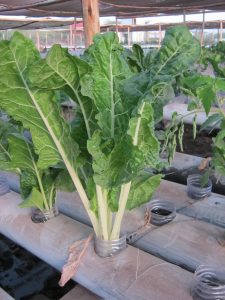 The multi-stakeholder co-creation was also an eye-opener for the private partner. An aquaponics system initially costed €600-700, which is unaffordable for the average Ethiopian household. It was a challenge how to make sure that the system would be available for the bottom of the pyramid. That led to very interesting discussions, about whether it would be possible to lease or franchise the systems. "The combination of researchers, NGOs and us made it possible to discuss these issues very well. The knowledge we have gained during the GCP research project helps us think about how to make these systems available for the people we really want to reach." Nowadays, TGS tries to combine large-scale with small-scale business opportunities to guarantee social impact.
Another advantage of the multi-stakeholder setting was that in working with local partners, you get to understand the culture on the ground. When working with women entrepreneurs in a male-dominated setting, you have to think about how to help them get accepted on the market. "That is something I had not thought of before; how you can develop these gender roles. If you start working with female entrepreneurs, it does not mean that you have solved the gender related issues. The local partner had good ideas on how to cope with this, which was really fun and informative for me."
A website on aquaponics in Ethiopia was designed to make knowledge available, both in English and Amharic (the local language). "Science has to have an impact on practice. If we do not work on that, we have gone the wrong way as scientists. Then we though, the easiest way is to build an app or website". On the website there are videos explaining what aquaponics is, information on how to start an aquaponics system and manuals on how to manage an aquaponics business. The site is still active and being found by interested entrepreneurs. "I still notice that occasionally I receive via that website with requests for advice."
Research uptake
The women entrepreneurs are still actively working with their aquaponics systems and are planning to expand to be able to produce more. In the rest of Ethiopia, not a lot is happening in the field of aquaponics. However, the aquaculture sector is starting to grow. The government wants to create fish ponds to produce fish to combat overfishing in lakes. "The progress is slow, but the fact that there is already a value chain is of course of importance. Now anyone who has money and wants to start a fish pond, can buy fish feed." Another partner of TGS started an aquaculture training centre in Debre Zeit for youth to start their own fish farm. TGS is thinking along in these processes, especially on aquaponics related technologies.
After the research project, TGS expanded their business and is currently active in not less than ten countries, on both hydroponics, aquaponics and drip irrigations. In all these countries they work with local business partners. Currently, they are active in refugee camps in Palestine, where there is water and energy scarcity and the soil often of bad quality. "The funny thing about the research was that the second cheapest option tested, performed best. That was very exciting." A business is being started selling the system to families in refugee camps, so people can grow their own vegetables at just a few square meters. "A system of 4 m2 can produce 80-100 heads of lettuce per month and can be built for an investment that can be earned back in the firs few months."
All in all, aquaponics is an innovative system that can lead to inclusive business development and Food and Nutrition Security at once. However, "the system works best where the soil is of bad quality or scarce, water is scarce and fish and vegetables give a reasonably good price. So basically you are talking about urban areas. There you also do not need a long value chain to the market. You can immediately sell your produce at the market and keep the profit, without having to deal with intermediaries."
Starting their business five years ago and having been active in 20 countries, TGS is planning to remain active in developing inclusive business models in agriculture, whether it be aquaponics, hydroponics, drip irrigation or anything else.