The Food & Business Knowledge Platform (F&BKP)
The Food & Business Knowledge Platform is one of the five Knowledge Platforms initiated by the Dutch Ministry of Foreign Affairs. There is one platform for each of the main themes of Dutch development policy. Food security, the theme of the F&BKP, is one of them.
The Ministry of Foreign Affairs is investing in a robust knowledge base for its policy on international cooperation by supporting research and the development and exchange of knowledge. As such it aims at research to respond more closely to the needs of development policy and practice. The Knowledge Platforms are an important tool to this end. You can read more about the Knowledge Platforms and the knowledge policy of the Ministry of Foreign Affairs at the umbrella website of the Platforms.
F&BKP organizational structure and management
The Ministry of Foreign Affairs (Directorate General for International Cooperation) is the commissioning body of the Platform. The Steering Committee decides on the knowledge agenda. After knowledge questions have been articulated in the Platform, the Steering Committee determines which issues are relevant to and have priority for the call of the GCP-fund. The Steering Committee, supported by the Office and WOTRO, helps monitor the effectiveness of the ARF and, if necessary, consults with NWO-WOTRO on improving the ARF calls.
The Ministry has outsourced the management and implementation of the secretariat of the Platform, called the Office, to a consortium of three organizations: AgriProFocus, The Broker and the Centre for Development Innovation Wageningen UR. The Office team is staffed by these organizations but acts as an independent and neutral entity, located in The Hague.
The Office facilitates the knowledge management of the Platform, undertakes its own activities and renders account to the Steering Committee for the substantive functioning of the platform (its activities and, more especially, its results). It is accountable to the Ministry for matters relating to financial administration.
Scheme of the organizational structure and management of the F&BKP: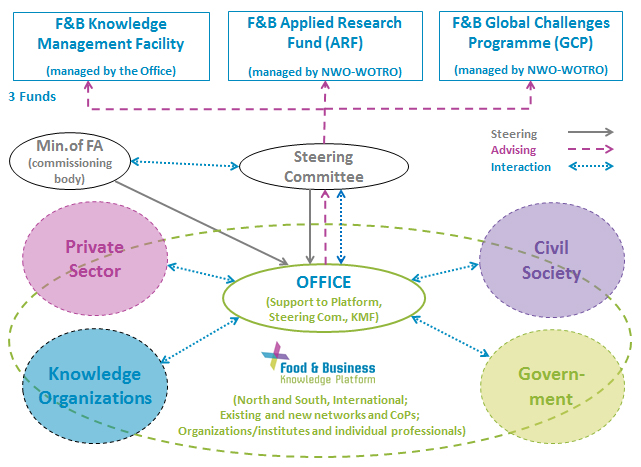 The Platform comprises existing and new networks and communities of practice, organizations, institutions and individual professionals from the North and the South, and is not limited to the 15 focus countries of the Dutch Ministry of Foreign Affairs.
Funds
The Office also manages the Knowledge Management Facility (KMF), a budget for organizing studies, expert meetings, debates, etc. on request of Platform, Steering Committee, Ministry of Foreign Affairs and the Dutch embassies in Low and Middle Income countries (LMIC).
WOTRO, Science for Global Development, of the Netherlands Organisation for Scientific Research (NWO) manages the GCP and ARF. Proposals for the GCP need to be submitted by Dutch knowledge institutes. For the ARF, practitioner organizations in the 15 focus countries of the Ministry and their knowledge partners are eligible to submit proposals. For the two funds (ARF and GCP), the Office facilitates the CoPs and supports researchers in sharing knowledge and the results of their research.